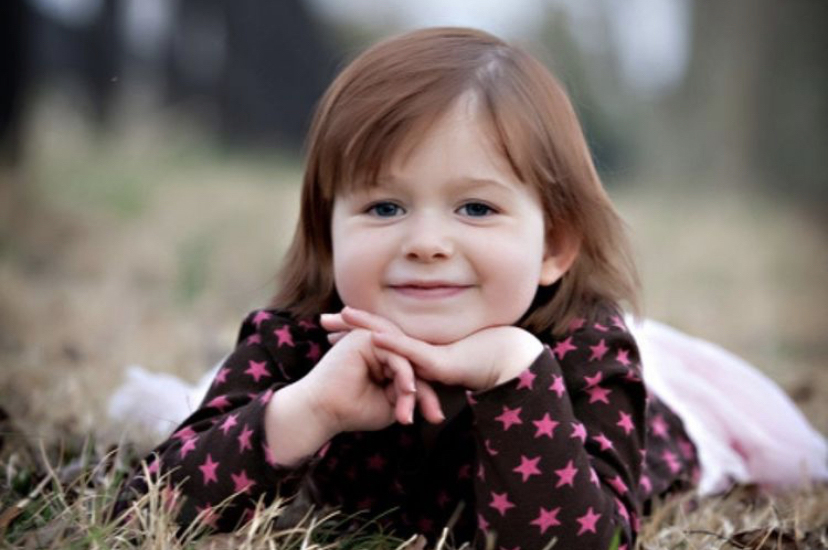 A powerhouse in the fight against pediatric cancer, alumnus finds meaning in her daughter's legacy
Isabella Santos spent nearly five of her seven years on Earth fighting cancer and helping people with rare pediatric cancers – a legacy her mother, Ohio University graduate Erin (Myers) Santos turned into purpose of his life.
As individuals and "Go Gold" organizations in honor of National Childhood Cancer Awareness Month, Erin (Myers) Santos, BBA '99, continues the work of her firstborn, a baby girl who dreamed of a world without cancer that changed the world for people with rare pediatric cancers.
"I was just taking her lead," said Santos, a 1999 Ohio University graduate, of her 2007 decision to create the Isabella Santos Foundation (ISF), an organization nonprofit dedicated to increasing survival rates of children diagnosed with rare pediatric cancers.
At the time, Isabella was 2 years old and, after months of back and stomach pain, misdiagnosis and tests, she was diagnosed with stage four neuroblastoma, a rare form of pediatric cancer. By this time, the life of the Santos family had ended and a new one began.
Santos left a six-year career with Lending Tree and became a full-time caregiver for Isabella, which paved the way for a new vocation in her life as Founder and Executive Director of ISF.
The family's next five years were spent in and out of hospitals in New York City, Philadelphia, and their hometown of Charlotte, NC, as Isabella resisted cycles of chemotherapy, radiation therapy, clinical trials, and almost every treatment option available – all with optimism and selflessness.
"For Isabella, it was always other people," says Santos. "There have been so many times that she didn't do anything in the summer because she was cooking for Ronald McDonald House or speaking at a Make-A-Wish event or trying to get people to. come and donate blood. It was so inspiring to see someone so young who gave so much of herself when in reality she should have been focusing on how to stay alive. But she was still trying to do things for others, which laid the foundation for the ISF.
Isabella lived the rest of her life with three wishes: to beat cancer, to grow hair and to live her dreams. And as her battle ended on June 28, 2012, Isabella's wishes and determination continue to serve as pillars for the ISF, which has continued on her behalf and made her wishes come true for others.
To date, ISF, which achieved its 501 (c) (3) status in 2010, has raised over $ 5 million, in funding invested in pediatric cancer research; national pediatric cancer trials, studies and treatments; and various means of support for families confronted with a cancer diagnosis. The foundation's work not only gave a voice to rare pediatric cancers, but made Charlotte, North Carolina, one of the nation's top pediatric cancer treatment centers.
Thanks to Isabella and ISF, Atrium Health's Levine Children's Hospital in Charlotte now offers an MIBG therapy suite, making the treatment that Isabella had to travel elsewhere to receive available in her hometown. And a $ 5 million commitment from ISF helped set up the Isabella Santos Foundation's Rare Solid Tumors Program, led by world-renowned pediatric oncologist Dr. Giselle Sholler.
"The program has grown from around 30 children to over 140 in just one year," says Santos. "We have about two years left of our $ 5 million commitment to Levine, but I think the state of this program in two years will be that every child diagnosed with rare cancer in the United States will now come to their hometown. Isabella to receive the best care.
But Isabella's legacy and ISF's work extend beyond the Santos family community in North Carolina. ISF has helped fund clinical trials at Memorial Sloan Kettering Cancer Center in New York City and Children's Hospital in Philadelphia, where Isabella was treated. And, in 2020, ISF partnered with another foundation – named after another child who died of cancer – to co-fund a pediatric cancer clinical trial at Nationwide Children's Hospital in Columbus, Ohio. , the birthplace of Santos.
"Although our focus is local, we are also trying to have impacts in other areas," explains Santos. "Being from Ohio and having my base there, giving back where I'm from is important to me, and Nationwide Children's Hospital is an amazing children's hospital. The $ 250,000 we have given to Nationwide is the first time we have had such a big impact in another state. "
According to Santos, the ISF is set to raise $ 1.5 million to $ 2 million this year – and all with a staff of just four moms in Charlotte, North Carolina, working from home to carry on the legacy of 'Isabella. March 9, which would have been the 16e anniversary, Charlotte's skyline was lit purple in honor of this heritage and in conjunction with ISF's Star Light Star Bright Luminary Dedication event, which raised over $ 91,000 for fund Dr. Sholler's pediatric cancer clinical trial at Levine Children's Hospital.
"Isabella's impact will outlive us all," says Santos. "I still wish she was here, but I feel like through her death we all understood what our purpose in life is. Our lives, and the lives of so many others, are forever changed by being a part of this, and it is such an honor to leave him a lasting legacy.
ISF is hosting a golf tournament in Columbus, Ohio this spring / early summer to continue support for Nationwide Children's Hospital. Ohio University alumni interested in getting involved are invited to contact Erin Santos at [email protected]
For more information on the Isabella Santos Foundation, click here.