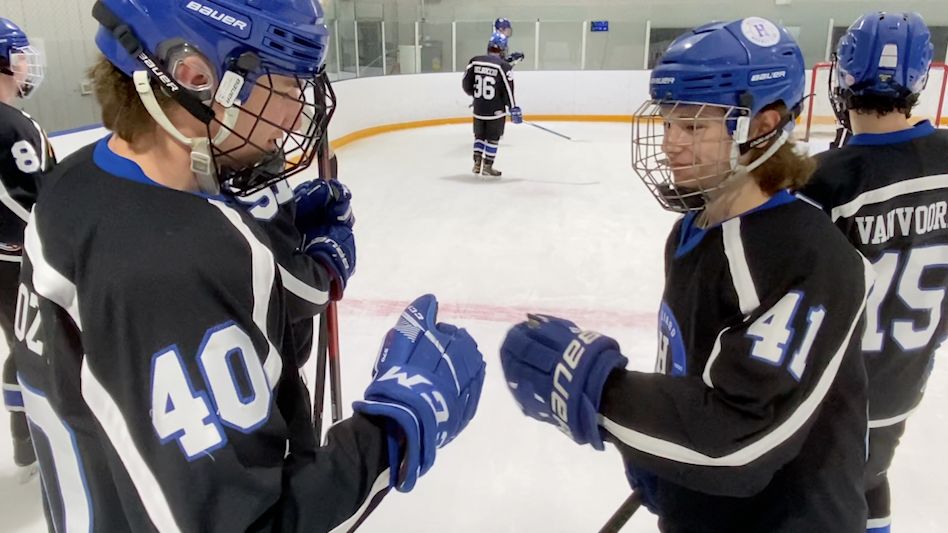 Columbus-area hockey club eyes U.S. national championship
HILLIARD, Ohio — Hilliard Davidson senior captain Owen Ambrozy has played hockey since he was 5 years old.
A dozen years later, he realized his dream of state champion with the Hilliard Hockey Club.
"It's just crazy. It's so rushed. The adrenaline was through the roof. It's kind of hard to believe it happened so fast," Ambrozy said.
On March 6, Ambrozy scored two third-period goals against Dayton, including a game-winning goal to give Hilliard his first-ever Buckeye Cup state championship.
But Ambrozy and the team are far from done as they battle for a USA Hockey High School National Championship title in Texas.
While he said the team continues to fight for respect, Ambrozy said it was nice to be recognized by the town of Hilliard and Central Ohio hockey fans.
"It's good to see that all our hard work is finally paying off. I know kids who are just starting to play. I know people who are starting to take an interest in it," Ambrozy said.
"Sometimes you have to promote yourself. Sometimes you have to show people. You have to earn that respect. But I've always been told that respect is earned, not given. So that's what I think we're trying to do here," said Jonathan Alder Senior Alex Kerr.
Ambrozy will be attending West Virginia University this fall with his teammate, Kerr, and whether he plays club, intramural or walk, hockey will continue to be a big part of his life and future.
"That's definitely been a good motivation, and it's always going to be with me. So, I'm excited, yeah, for whatever comes next," Ambrozy said.
Hilliard takes on the Lincoln Stars Hockey Club of Nebraska, Thursday at 2:15 p.m.