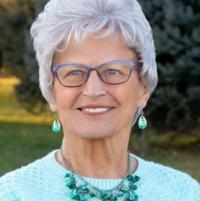 Elizabeth "Betty" Zoucha | Obituary
Elizabeth "Betty" Zoucha
April 12, 1939 – January 23, 2022
Elizabeth "Betty" Zoucha, 82, died Sunday, Jan. 23, 2022, surrounded by her family at her home in Columbus.
Christian Funeral Mass is at 10:30 a.m. on Friday, January 28, 2022 at St. Isidore's Church in Columbus. Visits take place on Thursdays from 4 p.m. to 7 p.m. with a vigil at 7 p.m., all at the church. Burial is in All Saints Cemetery, Columbus.
Elizabeth "Betty" Zoucha was born on April 12, 1939, to Anton and Margaret (Pfeifer) Nienaber in Lindsay, Nebraska. She attended school in Lindsay and graduated from Holy Family High School in 1957. After graduating, Betty went to work for Consumer Public Power District (now Nebraska Public Power District) in Columbus. Betty was married to Norbert Zoucha on April 25, 1959 at Holy Family Catholic Church in Lindsay. From this union were born his three children: Andy, Tim and Karen. Betty and Norbert farmed near Lindsay for years, before retiring to Columbus in 2012. She was a faithful member of Holy Family Catholic Church, until moving to Columbus, where she joined St. Isidore's Catholic Church. Betty had a passion for playing cards, being involved in many card clubs. She enjoyed cooking, traveling and spending time with her family. Betty enjoyed socializing and embraced her gift of hospitality. She also played the piano and sang for many years.
She is survived by her son, Andy (Sherri) Zoucha of Albion; grandchildren, Tyler, Dylan and Madyson Zoucha; great-granddaughter, Corey Zoucha; son, Tim Zoucha of Columbus; granddaughter, Abbey Sitzmann; daughter, Karen (Kevin) Arlt of Columbus; grandchildren, Morgan, Jakob and Keaton Rahtz; step-grandchildren, Nolan, Ava and Elias Arlt; great-granddaughter, Emery Perry; sister, Norma Korth of Fremont; sister, Clareen Prothman of Albion; brother, Msgr. Bob Nienaber of Omaha; sister, Phyllis Zoucha of Columbus; sister, Sr. Jane Nienaber, Joliet Franciscan of Downers Grove, Illinois; brother, Jack (Joan) Nienaber of Hastings; sister, Mary Anne (Franz) Haas of Germany; sister-in-law, Mary Lou Nienaber of Lindsay; and many nieces and nephews.
She is predeceased by her husband, Norbert; parents, Anton and Margaret; brothers, Jerry (Mary Ann) and Harry; brothers-in-law, Cyril Zoucha, Bob Korth, Ray Prothman and Ron Groski; and his sister-in-law, Adeline (Ron) Ternus.
Memorials can be made to the family for future designation.
Arrangements are with McKown Funeral Home.