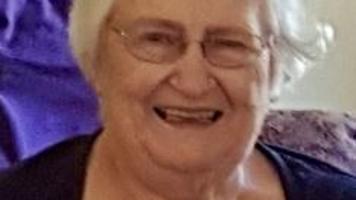 Judith "Teenie" Jones | Obituary
Judith "Teenie" Jones
July 23, 1936 – July 17, 2021
Judith "Teenie" Jones, 84, of Columbus, died on Saturday July 17, 2021 in Columbus, Nebraska.
Christian Burial Mass will be held at 10:30 a.m. on Wednesday, July 21, 2021, at St. Anthony Catholic Church in Columbus, Nebraska. Visitations will be held from 5 p.m. to 7 p.m. on Tuesday, July 20, 2021, and there will be a vigil service at 7 p.m., all at the funeral home. Visitations will continue at 9:30 am until church service time on Wednesday, July 21, 2021. Interment will be in Saint-Bonaventure Cemetery.
Judith was born July 23, 1936 in Columbus, Nebraska, to Frank and Catherine (Novicki) Murphy. She was educated at Columbus High School, where she graduated in 1954. She was married to Duane Jones on January 7, 1956. They moved to Rockford, Illinois in 1964. In 1987, they returned to Columbus, where she has lived since. She worked at Atwood Mobile Products for 30 years where she served on the Board of Directors of the bonus program. She then worked at C&S Electronics in Columbus, where she made many friends. Teenie was a member of St. Anthony's Catholic Church and St. Theresa's Sodality. She has been active in the Boy Scouts as a leader and committee member.
She is survived by her daughter, Mary Jones; daughter, Marjorie (John) Venclauskas; son, Martin (Joyce) Jones; son, Michael (Beth) Jones; son, Maurice (Teena) Jones; son, Mark (Jackie) Jones; and his daughter, Marcia (Dan Podliska) Krepel, all of Columbus, Nebraska; 12 grandchildren, Justin, Adam, Amy, Kristin, Sara, Joshua, Mandy, Bonnie, Matthew, Benjamin, Steven and David; seven great-grandchildren, Jessa, Joslyn, Zoey, Warren, Aspynn, Emily and Molly; and siblings, Connie Bonk of Columbus, Nebraska and Patrick Murphy of North Platte, Nebraska.