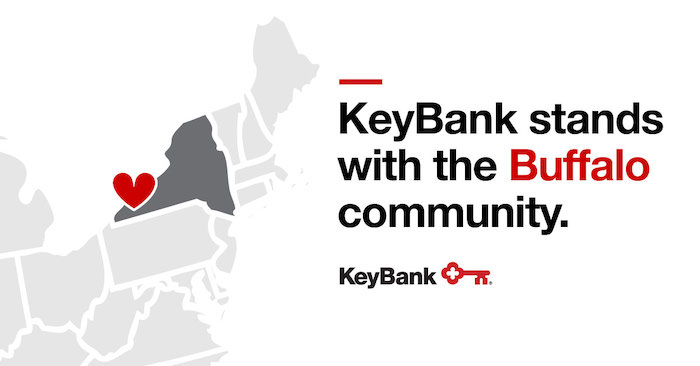 KeyBank Supports Buffalo Mass Shooting Families with $250,000 Grant
Posted 3 hours ago
Proposed by KeyBank
To honor the memory and legacy of the victims of the tragic supermarket shooting in Buffalo, New York, KeyBank is announcing a $250,000 grant from the KeyBank Foundation. These funds will help support the families of the victims.
In the coming days, teams at Key will be working with our community partners in Buffalo to figure out how to best direct these funds so that this support is directed where it can have the most impact.
"On behalf of all of us at KeyBank, our heartfelt condolences go out to the families and friends of the victims," ​​said Chris Gorman, president and CEO of KeyCorp. "While all crime calls for justice, we know this attack is especially painful for our teammates in Buffalo. I have come to know and admire the people of this great city and know that their strength and resilience will sustain them. We are by their side, today and every day.
Learn more about KeyBank here
KeyBank
KeyBank
KeyCorp's roots go back 190 years to Albany, New York. Headquartered in Cleveland, Ohio, Key is one of the nation's largest banking financial services companies, with assets of approximately $176.2 billion as of March 31, 2021. Key provides deposit, lending, cash and investment management to individuals and businesses in 15 United States as KeyBank National Association through a network of approximately 1,100 branches and more than 1,400 ATMs. Key also offers a wide range of sophisticated corporate and investment banking products, such as advice on mergers and acquisitions, public and private debt and capital, syndications and derivatives to middle market companies. in selected industries across the United States under the trade name KeyBanc Capital Markets. For more information, visit https://www.key.com/. KeyBank is an FDIC member.
More than KeyBank