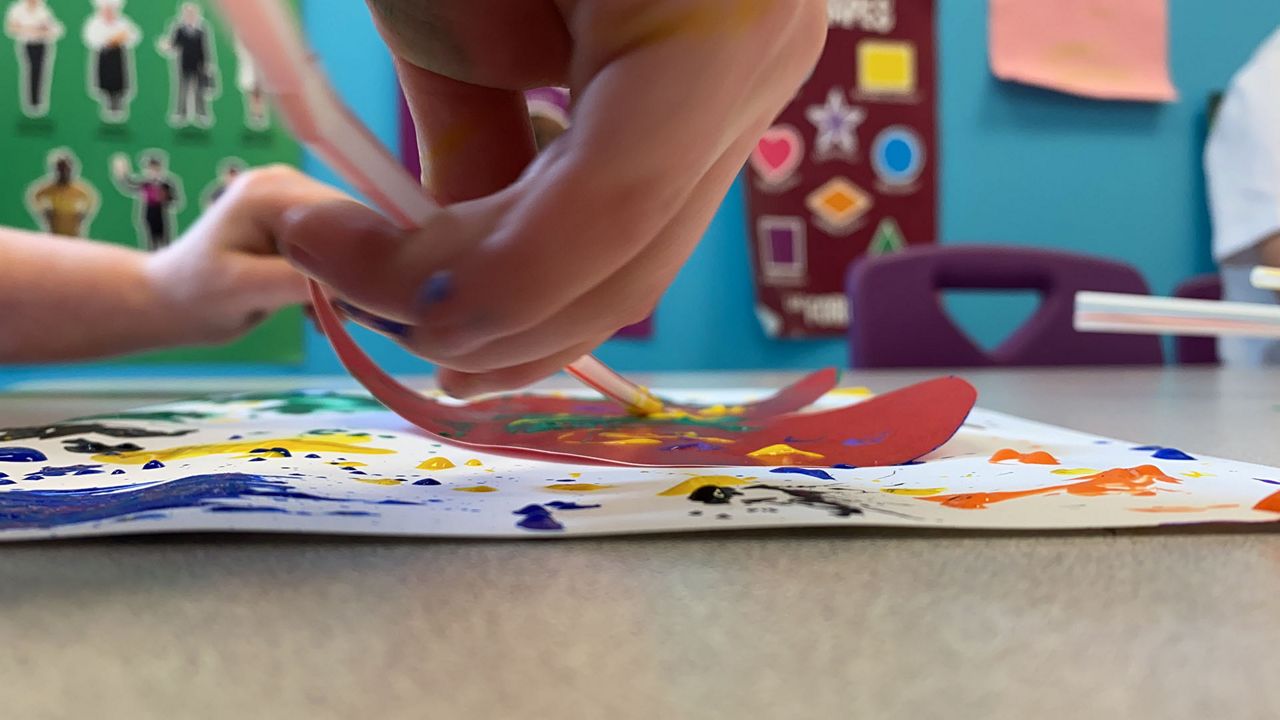 Preschoolers host a silent auction with art for Make-A-Wish
COLUMBUS, Ohio — The kids at Learning Experience — New Albany realized their wishes weren't just about birthdays.
The Make-A-Wish Foundation celebrates National Make A Wish Day by bringing hope and strength to children with chronic illnesses. Preschoolers at The Learning Experience learn what it means to give back.
Since early April, schools have been raising funds for the Make-A-Wish Foundation.
Students at The Learning Experience in New Albany all follow Philanthropy 101, where the first lesson is kindness.
"It's the size of your heart that matters, not just your ability to do certain things. It's just about being kind and what you can do for others," said Rachel Phillips, a classroom teacher for 3- and 4-year-olds.
The second lesson is empathy. Rachel Phillips will be the children's last teacher before they enter kindergarten and said it's important that children not only know their ABCs, but know how to empathize and care for others. Throughout the month, they had the chance to learn more about Make-A-Wish and meet some of the children in the program.
Phillips said while illness can be a complex idea for children, it's important to learn that there is no age limit for giving back.
"It helps kids, and they want to help their peers, so it's important for them to learn that kids can help too," Phillips said.
Follow-up is the third lesson of Philanthropy 101. The learning experience has a national partnership with Make-A-Wish and has raised over $1.2 million in the past month. Thousands of dollars have been raised through children's artwork. The kids worked hard to put together splatter art collages, hand prints and a quilt of their art.
Classroom teacher Ashely Moore helped the kids along the way.
"It's something they love to do, and it's something they can relate to. I really like them learning about the Make-A-Wish Foundation because then they can learn from a young age that they are capable of giving back to others," Moore said.
The last and most important lesson is to treat others the way you want to be treated. Phillips explains to his class how treating others can go a long way, even to making someone's wishes come true.
"When I talk to them about their behavior, I always tell them, 'I just want you to be the best you can be and that's my job.' I just feel like teaching them about philanthropy and kindness is the best way to start," Phillips said.
Phillips' class held a silent auction where friends and family members could bid on the children's artwork. Community members can also donate by visiting the learning experience Facebook page.